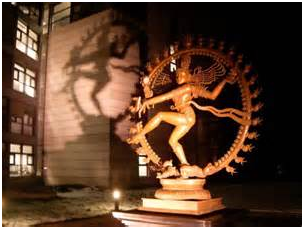 .
Lord Shiva is the destroyer of the world
STATUE OUTSIDE CERN BUILDINDS
.
The CERNunnos Large Hadron Collider Stargate:
Destroyer from the Abyss
.
.
As Souls of Distortion, they see their way out
through enacting The Stargate CERN
They will attempt to take over all dimensions
CERN SUPER COLLIDER
.
.
THE DANCING SHIVA STATUE
UNVEILED AT CERN
.
POPE'S NINTH CIRCLE : Third Force:
Vatican Occult Connections
AND THE HADRON COLLIDER
.
AN ALIEN MANIFEST Reality
CERN WEAPON AND EARTH LEYLINES
VERONICA KEEN
.
One of the world's most complex and expensive science experiments will soon be switched back on.
.
The Large Hadron Collider – which smashes billions of subatomic particles together – was taken offline for a $165 million dollar upgrade.
.
That gave our technology reporter Tarek Bazley the chance to visit the facility deep beneath the Franco-Swiss border.
.
.
.