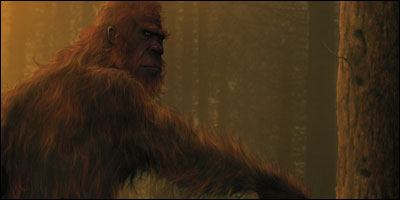 Lori and Dustin live in Northwest Georgia about 50 miles from Atlanta.
Some have sought, in the peaceful spirit, to befriend these curious and tricky neighbors, and to foster (so to speak) an ongoing family reunion.

"An ice storm hit our area, back in January 2011, we found a ten inch foot print in our back yard, near our back porch. It looked like a naked 'human' foot print, imprinted into the ice. Our area is kind of remote, and no one would be really able to have gotten down our road, to make this print during the after-math of this storm. Since then, we have had at least ten sightings of different Bigfoot 'creatures.' Among them is a six and half foot tall, reddish-brown,one with a black face, that was seen while a worker was repairing our floor (the workers didn't see him-thank God!). Then and there was another one that my husband confronted in the back yard-that one was five and half feet tall, and looked like a hairy black guy.

They are still around here to this day, and in an effort to make peace with them, we put food items in what we call a 'Giving Tree' in our back yard. We have seen shadowy tall forms near this tree at night, that have pinkish eyes. We have gotten numerous pictures of huge and small foot prints around here, and have many 'tree structures' in our back woods. We have also written a book about our experiences entitled 'Visitors in the Twilight' that chronicles many of our experiences here.