Follow @THEMADHATTERXXX
Researchers found an ancient layer of thin, dark sediment buried at the bottom of Lake Cuitzeo in central Mexico that contains nano diamonds, impact spherules and other exotic materials that are only found after a cosmic impact.

The study shows that an asteroid that was probably bigger than several hundred metres in diameter and blasted through the atmosphere at a shallow angle, burning up biomass, melting surface rocks and causing major environmental disruption.





The mammoth-murdering asteroid is also associated with the extinction of other North American animals including mastodons, sabre-tooth cats and dire wolves.

According to the BBC News: "Startling evidence has been found which shows mammoth and other great beasts from the last ice age were blasted with material that came from space. Eight tusks dating to some 35,000 years ago all show signs of having being peppered with meteorite fragments.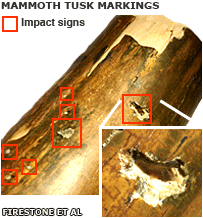 The ancient remains come from Alaska, but researchers also have a Siberian bison skull with the same pockmarks."

"We think that there was probably an impact which exploded in the air that sent these particles flying into the animals," said Richard Firestone from the Lawrence Berkeley National Laboratory. "In the case of the bison, we know that it survived the impact because there's new bone growth around these marks."

The mammoth and bison remains all display small (about 2-3mm in size) perforations. Raised, burnt surface rings trace the point of entry of high-velocity projectiles; and the punctures are on only one side, consistent with a blast coming from a single direction.

Viewed under an electron microscope, the embedded fragments appear to have exploded inside the tusk and bone, say the researchers. Shards have cut little channels.




The sunken pieces are also magnetic, and tests show them to have a high iron-nickel content, but to be depleted in titanium.

The ratios of different types of atoms in the fragments meant it was most unlikely they had originated on Earth, the team told the AGU meeting.

The discovery follows on from the group's previous research which claimed a more recent space collision – some 13,000 years ago. The researchers reported the discovery of sediment at more than 20 sites across North America that contained exotic materials: tiny spheres of glass and carbon, ultra-small specks of diamond and amounts of the rare element iridium that were too high to be terrestrial. The scientists also found a black layer which, they argued, was the charcoal deposited by wildfires that swept the continent after the space object smashed into the Earth's atmosphere.

In 1960, the Scottish-born American zoologist Ivan T. Sanderson wrote in his Saturday Evening Post article "Riddle of the Frozen Giants" about the Berezovka mammoth and his theory of its demise:

It now transpires, from several studies, that mammoths, though covered in a thick underwool and a long overcoat – and in some cases having quite a layer of fat – were not specially designed for arctic conditions; a little further consideration will make it plain that they did not live in such conditions.

That they did not live perpetually or even all year round on the arctic tundra is really very obvious. First, the average Indian elephant, which is a close relative of the mammoth and just about the same size, has to have several hundred pounds of food daily just to survive. For more than six months of the year, there is nothing for any such creature to eat on the tundra, and yet there were tens of thousands of mammoths.

"Further, not one trace of pine needles or of the leaves of any other trees were in the stomach of the Berezovka mammoth; little flowering buttercups, tender sedges and grasses were found exclusively. Buttercups will not even grow at forty degrees (4.4°C), and they cannot flower in the absence of sunlight. A detailed analysis of the contents of the Berezovka mammoth's stomach brought to light a long list of plants, some of which still grow in the arctic, but are actually much more typical of Southern Siberia today.





Therefore, the mammoths either made annual migrations north for the short summer, or the part of the earth where their corpses are found today was somewhere else in warmer latitudes at the time of their death, or both.


Here is a really shocking – to our previous way of thinking – picture. Vast herds of enormous, well-fed beasts not especially designed for extreme cold, placidly feeding in sunny pastures, delicately plucking flowering buttercups at a temperature in which we would probably not even have needed a coat.

Suddenly they were all killed without any visible sign of violence and before they could so much as swallow a last mouthful of food, and then were quick-frozen so rapidly that every cell of their bodies is perfectly preserved, despite their great bulk and their high temperature.

What, we may well ask, could possibly do this ?